Independence Hall National Historic Landmark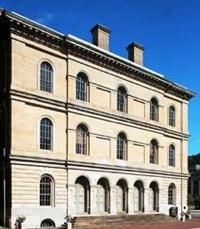 Nearly six years before President Lincoln signed the proclamation making West Virginia the 35th State in the Union, construction had begun on the Wheeling Custom House, headquarters for federal offices for the Western District of Virginia. Its completion, coinciding with the beginning of the Civil War, provided a facility for heated political discussions and constitutional conventions that led to eventual statehood for West Virginia in 1863. Here, issues dividing many Virginians - slavery being one of many - were debated, compromised and shaped into the skeleton of statehood.
The grand architecture of the building's interiors has been authentically restored. Visitors can view an interpretive video, "For Liberty and Union," and take a self-guided tour of the structure. Groups may schedule tours featuring dramatic interpretations by authentically-costumed guides. Call for fee and scheduling information. Individual visitors are always welcome for self-guided tours.
The permanent exhibition, "West Virginia: Born of the Civil War," ocated on the first floor of the museum, features dramatic displays with period artifacts, and explores the statehood process against the background of the Civil War.
West Virginia Independence Hall is located on the corner of 16th and Market Streets. From I-70 take Exit 1A South on Main Street to 16th, turn left and go one block. Parking is available behind the building.