Independence Seaport Museum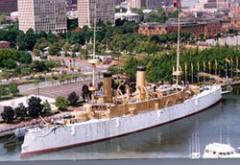 Visitors can explore the science, history and art of boats and boat building at the museum.
Climb into a boat that sits on a waterbed, put weights in different places on a model boat to study its center of gravity, or pull different shapes through a ten-foot tank of water to examine how drag affects speed. Take on the role of boat builder in our wodden boat workshop and assemble a four-foot wooden boat puzzle. And further on, the curious can walk or crawl through a full size replica of a 22-foot 19th century Delaware River Shad Skiff.
The permanent exhibit, Olympia: Launching the American Century, delves into the complex commentary on social and political matters of the Spanish American War era and presents a reflection of naval life at the turn of the century. Also, discover the many technological advancements that make Olympia an important piece of naval history beyond the well-deserved glory she earned through the victory at Manila Bay. Examine Olympia's history through newspaper headlines of the times, telegrams, period photographs, and letters and journals written by crew members and artifacts that were discovered aboard Olympia.
In "Home Port Philadelphia", the museum focuses solely on Delaware Valley maritime history of the late 19th-century and early 20th century and the museum allows visitors to journey through immigration, commerce, defense, industry and recreation led by the oral histories of the men and women who have lived, worked and played along the regions waterways. Exciting and challenging hands-on activities have been incorporated into the Museum's premier historical artifacts offering education and fun. Visitors can climb aboard the cold, hard bunks of an immigrant's journey in a ship's steerage compartment, unload cargo from a container ship using a miniature Kocks crane, weld and rivet a ship's hull or just relax and take an imaginary trip down the Delaware River.