Indianapolis Motor Speedway Hall Of Fame Museum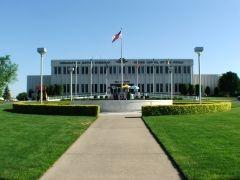 The Hall of Fame Museum displays the equipment and methods used for timing and scoring the Indianapolis 500 from the first race to the 21st century, including a viewer-activated computer presentation that explains the progress through the years. An extensive trophy collection, which honors the winner of each Indianapolis 500, is also on display along with auto racing trophies, honors and awards from around the world.
For a more visual taste of the Indianapolis 500, the museum offers visitors the 48-seat Tony Hulman Theater, featuring a 20-minute presentation of rare historic footage and Indianapolis 500 highlights. Approximately 75 vehicles are on display at all times, including rare makes of car models dating back to the early 20th century.