Jacksonville Historical Society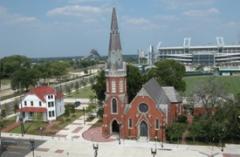 This towering Gothic Revival church is the largest pre-1901 house of worship in Jacksonville. When it was constructed in 1887, its architect, Robert S. Schuyler, had already established himself as an experienced designer of Episcopal churches. In addition to four Carpenter Gothic chapels in Waldo, Fairbanks, Pablo Beach, and Lake Santa Fe, Florida, Schuyler also designed St. Peter's Church in Fernandina in 1881 (one of several National Register buildings designed by Schuyler in that city). The excellence of St. Andrew's architecture was praised in the 1889 edition of King's Handbook of Notable Episcopal Churches in the United States.
The once populous residential area around the church has faded in recent years, and by the late 1970's the building had fallen into disuse and disrepair. Its congregation had moved away. Vacant for over a decade, the building was one of the most perplexing challenges facing local preservationists. Ironically, the Jacksonville Jaguars helped save it.
With the coming of the NFL football team, the city government purchased much of the land around the newly constructed Alltel Stadium, including the Old St. Andrews site. The Jacksonville Historical Society was given the rights to the building if it could restore it. Thanks to the city's cooperation and a challenge grant from the Weaver Foundation, JHS was able to raise a million dollars to complete the restoration of the old church to use as its headquarters. Old St. Andrews stands proudly today as one of the finest specimens of nineteenth-century architecture in Duval County, and it is a popular spot for meetings, weddings and other civic events.