James Madison Museum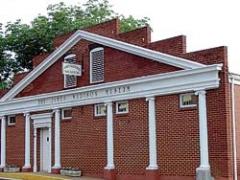 The James Madison Museum houses exhibits on James and Dolley Madison, featuring one of the nation's most outstanding collections of Madisonia. The focal point of the Madison Room is Madison's favorite chair, a campeche chair given him by his good friend, President Thomas Jefferson. Also on display are a number of Madison's personal items, papers and furnishings.
Thomas Jefferson called James Madison "the best farmer in the world" and to pay respect to Madison the farmer, the Museum's Hall of Transportation & Agriculture displays an interesting collection of antique farm tools. Also featured are a 1924 Model T Ford, 1922 Velie, and the Arjalon Price House, a 1733 "patent" or "cube" house. The house is partially reconstructed so that visitors will be able to see first-hand the building practices of the day. The structure where the museum now resides was originally built in 1928 as the Powell Nash car dealership.