Jeff's Pirate Cove and Seaside Museum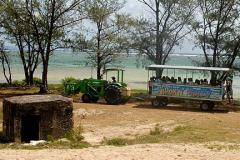 Halfway between the Togcha River and the Cove sits a bunker built during World War II when Japanese armed forces occupied the island of Guam. In 1945 Japanese stragglers killed a Chamorro guide and five U.S. sailors who were hunting for war souvenirs up the Togcha River.
Famous W.W.II straggler Sgt. Shoichi Yokoi visited the Cove many times after he was discovered in 1972. For many years a tour to Yokoi's famous cave in Babulao Hills started with a briefing at Jeff's Pirates Cove. He spent 28 years in the Talofofo jungles after the end of the war. Yokoi said that while hiding in the Togcha Hills he listened to the Cove festivities.
The museum houses many collections of unique artifacts, glass fish floats, stone tools, ifit wood sculptures, rare seashells, pottery, fine oil paintings, black coral and floating rocks. The museum is also home to Yokoi's true story wall and the wheel from the battleship USS Oregon of 1893. Many items that have been found along the Ipan shoreline over the years are also on display.