Jim Gatchell Memorial Museum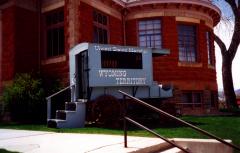 Jim Gatchell came to Buffalo in 1900 to establish a drug store on Buffalo's Main Street. He not only served the settlers and frontiersman of the area, but the members of the Lakota and the Northern Cheyenne in the area. The Cheyenne gave him the name of "Turpy" which means "He who speaks for them".
Because of these relationships on both sides of the frontier struggle, Gatchell came to amass a collection of artifacts in the store room of his drug store, such a Springfield rifle gifted to him by the Cheyenne Shave Head.
The collection came to contain military, Plains Indian, Bozeman Trail and Powder River artifacts, and Johnson County history, memorabilia and photographs. Items include a sheep wagon, representative of Johnson County's Basque people, and a military weapons display including rare guns typical of standard issue from nearby Fort Phil Kearny, whose short existence protecting the Bozeman Trail in the late 1860s lasted only two years.
The museum, built after Gatchell's death in 1954, is one of the richest collections of frontier artifacts in the Rocky Mountain West and items relating to the frontier experience in Wyoming's Powder River Region - the focal point of historic activity along the Bozeman Trail. The region was one of the last regions opened for homesteading, after the end of the Black Hills War with the Lakota in the 1877.
In 1892, the county was the site of a battle between small farmers and wealthy ranchers. The War on Powder River ended when President Benjamin Harrison called in the U.S. Cavlary. Detailed dioramas of the Wagon Box Fight, the Johnson County Cattle War of 1892, the siege at the TA Ranch and Buffalo's Main Street in 1894, allow a rare glimpse into life as it was in those days.