John and Mable Ringling Museum of Art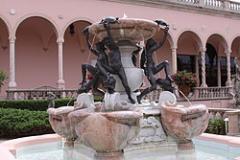 Initially built to house John Ringling's personal art collection, the John and Maple Museum of Art was established in 1927 for the people of Florida. John Ringling, one of the seven founding brothers of the Ringling Brothers Circus empire, who later merged with Barnum & Bailey Circus. John Ringling commissioned architect John H. Phillips to design the museum in 1925, but the combined crash of the Florida land boom and the Stock Market stalled construction. In 1931, two years after the death of Maple Ringling, the museum opened to the public.  
In 2000, Florida State University took control of the museum, which now houses over 10,000 paintings, sculptures, and other objects. In 2007, a $73 million addition was completed, including the Arthur F. and Ulla R. Searing Wing. In total, the renovations added 150,000 sq. feet to the museum, making it one of the largest in the country.