John Paul Jones House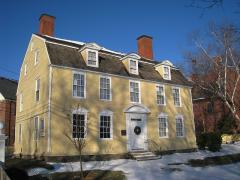 The John Paul Jones House was built in 1758 in Portsmouth, New Hampshire to serve as the home of Captain Gregory Purcell until his death in 1776. At that time, his widow began to take in boarders, one of whom was John Paul Jones, Revolutionary War naval hero. From 1781 to 1782, Jones stayed at the house while supervising the construction of the America, the first ship-of-the-line built for the Continental Navy. The House is one of few surviving buildings known to have been associated with John Paul Jones' life and was declared a National Historic Landmark in 1972.
John Paul Jones is perhaps most famous for his command at the Battle of Flamborough Head, England on September 23, 1779 where he told the captain of the HMS Serapis "I have not yet begun to fight!" Though by the end his ship was sinking, the Serapis was surrendered to Jones and the Americans won the day.
The John Paul Jones House has served as the home of the Portsmouth Historical Society since 1920, and houses all of the Society's collections. These collections include examples of locally produced furniture and decorative arts that have played a role in the history of the Piscataqua region. The Society also maintains the most extensive collection of portraits in the New Hampshire seacoast, spanning three centuries of women and men who shaped the history of Portsmouth. The John Paul Jones House also features a large collection of glass and ceramics, documents, textiles, and kitchen implements that reveal much about the everyday life of New Hampshire in centuries past.