Kentucky Historical Society History Campus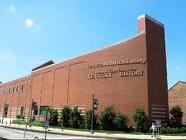 Located in downtown Frankfort, the campus includes the Kentucky Military Museum, housed within the 1850 Old State Arsenal, which contains artifacts from two centuries of war.
Five blocks northwest lies the two-story Greek-Revival Old State Capitol building that features hour-long tours through the recreated 1850s House and Senate chambers and law library. Also on the campus is the 167,000-square-foot Thomas D. Clark Center for Kentucky History, which explores Kentucky's past from Paleoindian times to the present.