Lacrosse Museum & National Hall Of Fame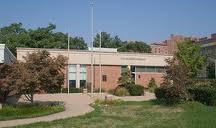 The Lacrosse Museum describes the origins of the sport and displays its greatest athletes.
Come discover and relive the origins of America's oldest sport! Engulf yourself in rare photographs and art, vintage equipment and uniforms, striking sculptures and trophies, cherished memorabilia and artifacts. View the all-time greats of lacrosse in the beautiful Hall of Fame Gallery and study their outstanding accomplishments through state-of-the-art computer interactives. Capture the thrill of playing lacrosse during the multimedia show "Lacrosse: The Spirit Lives" and our historical documentary "More than a Game: A History of Lacrosse." Top everything off with a purchase from the Lacrosse Museum and National Hall of Fame Gift Shop.