Lake Champlain Maritime Museum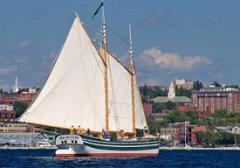 Focusing on the maritime history and nautical archaeology of the Champlain Valley, the Lake Champlain Maritime Museum has artifacts and exhibits spread throughout more than a dozen buildings.
Located at Basin Harbor off Lake Champlain, the museum contains artifacts from some of the 200 documented shipwrecks in Lake Champlain. Visitors can see a handcrafted bateau modeled after the watercraft used by Robert Rogers in the French and Indian War, and watch a 15-minute video about the Battle of Valcour Island in 1776. Opened in 2001, the Maritime Research Institute is the research center for the museum and contains the Conservation Laboratory, responsible for the treatment of recovered artifacts.