Lake Jackson Mounds Archaeological State Park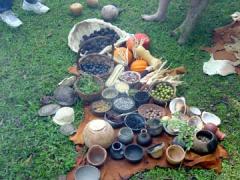 The Native Americans who resided on the banks of Lake Jackson between 1200 and 1500 A.D. left monuments by which to remember them: three temple mounds, one of which stretches 26 feet towards the sky. Today interpretive kiosks and guided tours render the history of these mounds accessible.
More than eight centuries ago, Native Americans inhabited the area around Lake Jackson, just north of Tallahassee. The park site was part of what is now known as the Southeastern Ceremonial Complex. Today, it encompasses six earthen temple mounds and one possible burial mound. The largest mound is 278 feet by 312 feet at the base and approximately 36 feet in height. Artifacts of pre-Columbian societies have been found here including copper breastplates, necklaces, bracelets, anklets, and cloaks. Visitors can enjoy a short hike past the remains of an 1800s grist mill or picnic on an open grassy area near the largest mound. Guided tours and interpretive programs of the park are available upon request.