Lambertville Historical Society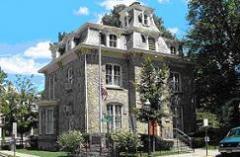 The Marshall House, on the National and New Jersey Registers of Historic Places, was the boyhood home of James Wilson Marshall, discoverer of gold in California in 1848, and is now the headquarters of the Lambertville Historical Society. The Federal brick structure was built in 1816 by his father, Philip Marshall, cabinet, coach and wagon maker, a member of one of the oldest families in New Jersey and by marriage to John Hart, a signer of the Declaration of Independence.
The parlor and one bedroom have been furnished with pieces that come as close as possible to the inventory recorded at the Hunterdon County courthouse at Philip Marshall's death. The Society's archives include thousands of items, including a collection of quilts. Recent exhibits include a pictorial history, called "Gil's Journey", tracing the still-viable shad fishing industry on Holcombe Island; an 1843 friendship quilt stamped with the names of 27 founding families; memorabilia from Lambertville's industrial days and more.