Lee Chapel And Museum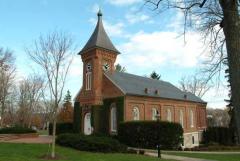 Since the days of Robert E. Lee, Lee Chapel has been at the heart of life on the campus of Washington and Lee University. Imbued with tradition, it continues to be a gathering place for the University's most important events.
Construction began on the chapel in 1867 at the request of Gen. Robert E. Lee, who served as president from 1865 to 1870 of what was then Washington College. The simple Victorian design may have been proposed by his son, George Washington Custis Lee, and the plans and specifications were drawn up by Col. Thomas Williamson; both were professors in the engineering department of neighboring Virginia Military Institute. Built of brick and native limestone, the chapel was completed in time for graduation exercises in 1868. Lee attended daily worship services here with the students and the lower level housed his office, the treasurer's office and the YMCA headquarters (student center). Lee died on October 12, 1870, and was buried beneath the chapel. In 1883, an addition was made to the building which houses the memorial sculpture of the recumbent Lee by Edward Valentine and includes a family crypt in the lower level where the general's remains were moved. His wife, mother, father ("Light-Horse Harry" Lee), all of his children and other relatives are now buried in the crypt as well. The remains of his beloved horse, Traveller, are interred in a plot outside the museum entrance.
Lee's office is preserved much as he left it for the last time on September 28, 1870. The rest of the lower level became a museum in 1928, exhibiting items once owned by the Lee and Washington families. A state-of-the-art museum is housed in the lower level and includes Lee's office, a portrait gallery displaying the Washington-Custis-Lee Collection, an exhibition tracing the history and heritage of Washington and Lee University.