Leesburg Heritage Museum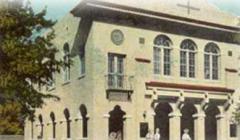 The museum has an interesting history all its own. It has been home to the Leesburg Library, the Leesburg Chamber of Commerce, several civic clubs, the Leesburg High School Prom and the Poinsettia Ball. The museum is crammed with artifacts and items that help tell the story about Leesburg – from the days that citrus was king and the popular Watermelon Festival was a highlight for kids and adults alike, to the Leesburg Centennial in 1957 and gathering places such as the Magnolia Hotel and the Lake View Hotel.
In addition to the artifacts and memorabilia there are also extensive archives that help tell the story of Leesburg's past, including businesses, city government, families, churches and social organizations. The museum is staffed by members of the Leesburg Heritage Society, which was organized in 1976.