Lefferts Historic House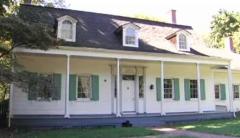 Pieter Lefferts built the house around 1783, four generations after his ancestors arrived in the New World. Lefferts served as a lieutenant in the Continental Army during the Revolutionary War and was later appointed to a judgeship in Kings County. He also served as a member of the New York State convention that ratified the Constitution in 1788.
Lefferts's son, John, inherited the farm when his father died. Gertrude Lefferts Vanderbilt, John's daughter, recorded the history of her family, her community, and her landmark home in The Social History of Flatbush, published in 1881.
By the turn of the century, Brooklyn's rural setting was disappearing under the sprawl of real estate development. In 1917, the estate of John Lefferts offered the House to the City of New York on the condition that the House be moved from its original location onto city property. The City accepted the offer and moved the House into Prospect Park in 1918. In 1920, it was opened as a museum by the Fort Greene chapter of the Daughters of the American Revolution.
Today, Lefferts Historic House is a museum of family life in Brooklyn in the 1820s. Period rooms furnished to reflect daily life, demonstration gardens and fields, and hands-on American craft activities help visitors understand the changes in Brooklyn's landscape since the 18th-century.
Lefferts Historic House is owned by the New York City Department of Parks & Recreation, operated by the Prospect Park Alliance, and is a member of the Historic House Trust.