Levi Jackson Wilderness Road State Park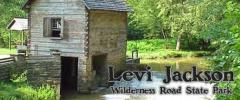 This 892-acre park, crossed by 8.5 miles of walking paths, contains a memorial to the October 3, 1786, massacre of 24 west-going pioneers by Shawnee Indians.Two historic trails, the Wilderness Road and Boone's Trace, began here and were traveled by more than 200,000 settlers between 1775 and 1818.
In nearby London, the Mountain Life Museum features a recreated 19th-century village with seven buildings, such as the loom house and barn, which feature 18th-century pioneer tools, rifles, and farm equipment.McHargue's Mill, a half-mile south, first began operating in 1817. Visitors can watch cornmeal being ground and see more than 50 millstones.