Liberty Hall Historic Site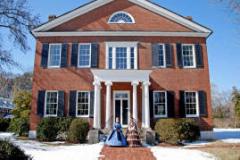 This four-acre complex, situated on the banks of the Kentucky River in downtown Frankfort, contains two restored Federal-style political estates: the 1796 Liberty Hall, built by Sen. John Brown; and the 1835 Orlando Brown House, which belonged to his son.
A 75-minute tour explores both homes, and showcases such artifacts as a 19th-century Stoddard piano. Visitors can learn about Margaret Wise Brown, Sen. Brown's great-great-granddaughter and a renowned author of children's fiction. Trails lead through the boxwood and perennial gardens to the riverfront.