Little Compton Historical Society & Wilbor House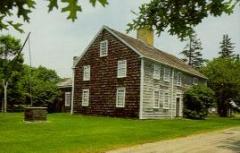 The town of Little Compton, Rhode Island, was founded by a band of explorers from Plymouth Colony seeking to expand their settlement along the Massachusetts coastline. The land they chose, some twenty square miles situated on a peninsula sixty miles southwest of present-day Plymouth, Massachusetts, was originally named Sakonnet (after the local Sogkonnite tribe of Indians).
In 1682, Sakonnet was incorporated by Plymouth Colony and renamed Little Compton. In January 1746/47, Little Compton became an incorporated town of the state of Rhode Island, pursuant to a royal decree, and shortly thereafter was annexed to Newport County.