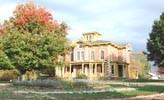 The association is a collection of farm sites in Iowa. These sites include the Ioway Indian Village, the Pioneer Farm, the town of Walnut Hill, the horse-powered farm, the Wallace Exhibit Center, and the gardens.
Visitors can discover America's agricultural heritage as you walk through three working farms, each with authentic crops and livestock. Historical interpreters work at each of the farms, homes and shops and are ready to show visitors the whats, whens, hows and whys of everyday life in the past.
Memberships to the association offer a variety of benefits including unlimited free admission to farms, discounts, early registration opportunities, behind-the-scenes newsletters, and discounted admission at other museums around the nation.