Longue Vue House And Gardens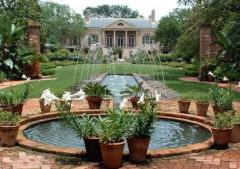 The home and gardens was born of the dreams of Edgar and Edith Stern, pillars of the New Orleans community. It is the combination of the Sterns working with landscape architect Ellen Biddle Shipman and architects William and Geoffrey Platt that has created this wonderful oasis of beauty set in charming New Orleans. The Longue Vue House is one of the last great houses to be custom-built in America, taking the Platt brothers three years (1939-1942) to create.
This Classical Revival style house consists of three stories and a basement, an unusual feature of New Orleans where most of the city is below sea level. Visitors tour the main living spaces of the house, numbering 20 rooms. The house contains its original furnishings of English and American antiques; European and Eastern European carpets; Modern and Contemporary art; collections of needlework, chintz, haute couture and ethnic costumes; Chinese and European export porcelain; Saffordshire transferware; and creamware and pearlware from Wedgwood, Leeds and other British and continental potteries.
On a tour of the house one enters through the unique circular vestibule which has curved sliding wrought-iron doors. Among many varied and fashionably decorated rooms, one can see the Flower Arranging Room, the Blue Room – accurately decorated with blue carpeting, walls and furniture, The Art Gallery, the Drawing Room – which is the most formal room of the house and has been the setting for the entertainment of such notables as Eleanor Roosevelt, John and Robert Kennedy, Pablo Casals, Jack Benny and others, The Wrapping Room – used only to open mail and wrap presents, among many more. Longue Vue House and Gardens is a model of the fashionable, but conservative, taste of wealthy Americans during the 30's and 40's and a way of life that has all but disappeared.