Los Altos History Museum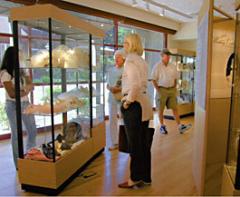 The Museum's permanent interactive exhibit, "The Crown of the Peninsula," depicts the uses of local land and its inhabitants over time. The heart of this exhibit – and a key attraction for children of all ages – is a replica of downtown Los Altos in 1932 that features a model railroad and many of the sights and sounds of that era. Visitors can also take a journey with the Ohlone Indians, Mexican land grantees, early California settlers, and apricot growers as they make what is now Los Altos their home.
Visitors can also see the J. Gilbert Smith History House, located on one of the last active apricot orchards in the Santa Clara Valley. The Craftsman-style house features period furnishings, toys and decorative arts that all rekindle memories of a simpler time.