Louis Armstrong House & Archives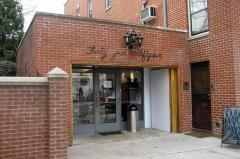 Louis Armstrong was certainly wealthy enough to live just about anywhere in the world. Yet in 1943, he and his wife, Lucille, settled in a modest house in Corona, Queens, where they lived for the remainder of their lives. In her will, Lucille left the house (which had already been declared a National Historic Landmark) to the City of New York to be made into museum. The New York City Department of Cultural Affairs assumed ownership of the house, and provided for Queens College to administer it.
On October 15, 2003, the House opened to the public as a historic house museum, and since then visitors have come from all over the world to "visit" Louis and Lucille. No one has lived in the house since the Armstrongs, and the house and its furnishings remain very much as they were during Louis and Lucille's lifetime.