Louisiana State Museum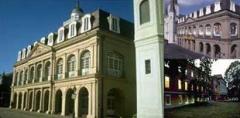 Louisiana State Museum, a complex of national landmarks housing thousands of artifacts and works of art reflecting Louisiana's legacy of historic events and cultural diversity. The Museum operates five properties in the famous French Quarter: the Cabildo, Presbytere, 1850 House, Old U.S. Mint and Madame John's Legacy. Also the Louisiana State Museum - Patterson in Patterson, Louisiana State Museum - Baton Rouge, the Old Courthouse in Natchitoches, and the E.D. White Historic Site in Thibodaux.
The museum has two of the four signed paintings by the free man of color, Julian Hudson, including his well-known self portrait. The Louisiana State Museum is the largest repository of paintings by the premier French portraitists working in Louisiana during the 1830s and 1840s, Jean Joseph Vaudechamp and Jacques Amans.
The Louisiana State Museum has one of the largest and finest costume and textile collections in the United States. Overall the museum's collection ranges from late 18th century to the present with the majority of objects having a Louisiana provenance. Of the approximately 15,000 objects in the collection, one third is the costumes and accessories collection, one third is the textile collection, and one third is the Carnival collection.
The Science and Technology collection consists primarily of tools people have used to shape their environment. The approximately 6,000 artifacts date from the sixteenth to the twentieth century. Little is known about much of the collection. Items are recognized as old tools or machines with little other significant information. What follows are the highlights and general descriptions of the science and technology collection. The categories chosen reflect a condensed version of the nomenclature used to organize the artifacts into related groups.