Macarthur Memorial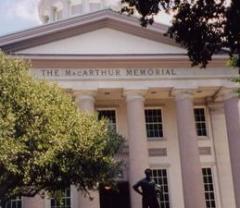 The museum is housed in Norfolk's nineteenth-century City Hall, which is both a Virginia Historic Landmark and a National Historic Place. A monumental rotunda is the General and Mrs. MacArthur's final resting place. They lie surrounded by inscriptions, banners and flags heralding his long and glorious career. While the project broadens the focus of the exhibitry, General MacArthur remains the central figure of the museum.
Additionally, the exhibits move beyond just a chronology of the General's deeds. They discuss the events and those who served and explain the outcome of these periods of history. Second, information is presented in formats that are interesting and informative to all, while providing visitors a memorable experience. The MacArthur Memorial's extensive collection of military and personal artifacts allows visitors to discover the compelling story of General of the Army Douglas MacArthur and the millions of American men and women who served our nation during the Civil War, Indian Wars, the Spanish American War, World War I, World War II, and the Korean War. The Museum's displays are housed in nine permanent and two changing exhibit galleries.
The treasures on view include 19th and 20th century medals, flags, paintings, weapons, and equipment. Japanese, Korean, and Chinese art objects, including Imari, Kutani, and Satsuma porcelain, Jade and Cloisonne are also displayed. Included throughout the museum are personal artifacts belonging to General Douglas MacArthur and his family. Among these artifacts are the General's trademark military cap, corncob pipe, and sunglasses. The Museum provides a window to the nation's past through which visitors experience the history, drama, and heritage of America, as the nation and Douglas MacArthur came of age during the 20th century.