Manassas National Battlefield Park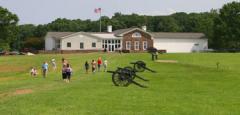 In the summer of 1861, enthusiastic volunteers in colorful uniforms gathered to fight the first major land battle of the Civil War. Confident that their foes would turn and run, neither side anticipated the smoke, din and death of battle.
Nearly one year later, both sides met again on this same battlefield. Confederates forces won a solid victory, bringing them to the height of their power.
The park offers a wide array of activities, scenic vistas, historic sites and walking trails to interest visitors.
The visitors' center offers electronic battle maps, displays of equipment and battle memorabilia, and interpretive presentations of the battlefield's history by Park Service rangers.