Manitoga & The Russel Wright Design Center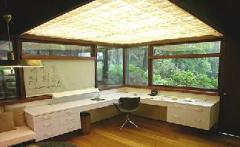 In the 1930s, 40s and 50s, the signature on a set of dinnerware or piece of furniture elicited instant response. At that time, Wright was one of the best known designers in the U.S. At the apex of his career, Wright left New York City and moved his base of operations to Garrison. It was here that he created a unique home and designed landscape. He named it Manitoga, meaning Place of the Great Spirit in Algonquin. Wright shared the Native Americans' respect for the earth.
When Wright first found this property in 1942, it had been damaged by a century of quarrying and lumbering. Over the next three decades, until his death in 1976, he carefully redesigned and re-sculpted Manitoga's 75 acres using native plants, his training as a theater designer and sculptor, and his innovative design ideas. Though the landscape appears natural, it is actually a careful design of native trees, rocks, ferns, mosses, and wild flowers.
Wright created over four miles of paths that wind over creeks, into woods, among boulders, and through ferns and mountain laurel.