Mann-Simons Cottage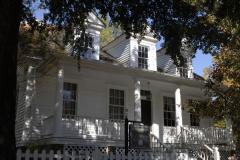 Although only one house stands today, the Mann-Simons site historically was a collection of commercial and domestic spaces owned and operated by the same African-American family from at least 1843 until 1970.
Celia Mann, a free African-American, owned the house before the Civil War, and her descendants controlled it for over a century. The Calvary Baptist Church, Columbia's first black church, held services in the basement before it found a permanent location. The property and its multiple buildings changed considerably over time to better accommodate the needs, tastes, and aspirations of this remarkable family.
The Mann-Simons Cottage is part of Historic Columbia Foundation.