Mariemont Preservation Foundation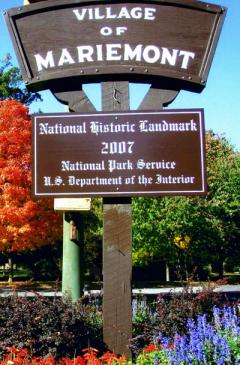 The original Board of Trustees consisted of Clarence Erickson (the mayor at that time), Jim Cunningham, Alison Rink, Paul Prevey, Hope Kain, Caroline Schwenkmeyer, Ed Steinau, Warren Harding, and Millard Rogers. Twenty-five years later, Mr. Erickson and Mr. Rogers are still active Board members.
The first undertaking of the fledgling organization was to develop a landscape plan for the Village Square. As of June 1981, the group had $972.94 in the Treasury and met in the Council Chambers. The following year, MPF drafted a Master Plan for the Village, installed two antique lamps in front of the Municipal Building, planted trees in the Village Square, presented photos of the early Village taken by Nancy Ford Cones, and began a street lamp preservation project with financial support from the Emery Memorial.
As time went on, the group took on a wider range of activities. MPF was instrumental in pushing for a ban on digging at the Madisonville Site, an area with great archaeological significance. They also began to collect materials relating to the history of the Village, and in 1985, MPF moved to the Dale Park School (currently the Junior High). There was some storage space for the burgeoning Archives, as well as space to meet and conduct business. However, as the organization continued to expand, more space was needed, and in 1989, MPF renovated the old CG&E transformer building as their permanent headquarters.