Martin Luther King, Jr. Memorial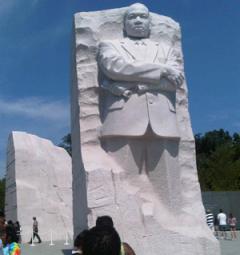 Opened to the public on August 22, 2011, the Martin Luther King, Jr. Memorial honors an iconic leader in the Civil Rights Movement whose commitment to colorblind equality and nonviolence helped overturn centuries of racial segregation in the United States.
King was born in Atlanta and followed his father, becoming an ordained minister in 1948. King would later attend Morehouse College, Crozer Theological Seminary, and Boston University, receiving a PhD in 1955. King led the Montgomery Bus Boycott in 1955, directly challenging segregationary practices in Montgomery, Alabama. Helping to found the Southern Christian Leadership Conference in 1957 with Ralph Abernathy, King led the SCLC from its founding to his death in 1968. In the 1960s King organized protests in Birmingham, Alabama, where he was jailed during his nonviolent protests. Later that year, King led the March on Washington for Jobs and Freedom, delivering his "I Have a Dream" speech from the steps of the Lincoln Memorial in front of hundreds of thousands of people. 
Alpha Phi Alpha Fraternity, Inc., first planned a monument to commemorate King, a member of the fraternity, after his assassination in 1968. In 1996, President Bill Clinton signed Congressional legislation proposing the creation of a memorial, and would later sign another bill in 1998 approving a site for the project. The Washington, D.C. Martin Luther King, Jr. National Memorial Project Foundation oversaw planning, fundraising, and construction of the memorial, which was designed by the ROMA Design Group.