Maryland State House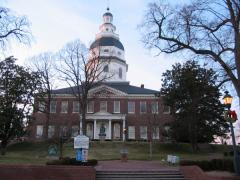 The Maryland State House is the oldest state capitol still in continuous legislative use and is the only state house to have ever served as the nation's capitol.
The Continental Congress met in the Old Senate Chamber from November 26, 1783, to August 13, 1784. During that time, George Washington came before Congress to resign his commission as commander-in-chief of the Continental Army and the Treaty of Paris was ratified, marking the official end of the Revolutionary War.
The collection presented here comprises works of art, objects, and documents associated with and/or exhibited in the Maryland State House. All of the items are part of the collection of the Maryland State Archives. To verify the current location, and visitor access, for any of the items presented here, it is recommended to contact the staff of the State House Visitor Center.
The Maryland State House Visitor Center is a program of the Maryland State Archives. For information about the Archives, please visit www.mdsa.net