Mcallister House Museum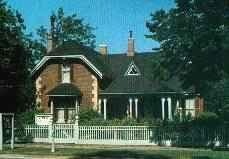 Built a year and a half after the city was founded, when most houses were of vernacular frame construction, it is the oldest house still standing. General William Jackson Palmer, founder of the city, chose Major Henry McAllister, his longtime military and business associate, to be the Director for the Colorado Springs Company.
The Colonial Dames have authentically restored the house. Details include original marble fireplaces, floor to ceiling pocket windows, which slide up into the walls making nice doorways to the verandas, and furnishings appropriate to the period.