Merrick County Historical Museum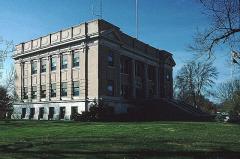 The Merrick County Historical Museum conducts bi-monthly meetings, conducts tours and hosts the Teddy Bear Picnic and Parade, as well as an annual Christmas Open House. Members of the society have been responsible for compiling and publishing two volumes of Merrick County History; the first in 1981 and the second in 1988. The Historical Museum purchased the old Traver mansion on old Front Street in 1968, and in addition to restoring the home, exhibits many artifacts and records in the house.
The old city fire bell, nearly buried in the Union Pacific right-of-way has been restored and mounted in a decorative tower on the lawn of the Traver home.