Milwaukee Public Museum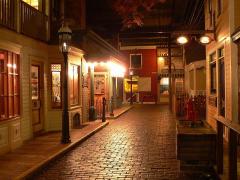 The museum features a walkable replica of a Milwaukee street around the turn-of-the-century - roughly the 1880s to just prior to World War I. The 25 buildings are represented at about three-quarters size or less.  There is also a separate exhibit which recreates an European village during the fifty years between 1875 and 1925.
The Third Planet exhibit focuses on prehistoric planetary development.  The focus of the hall is the revolutionary concept of plate tectonics which makes the hall the first in North America to use this paradigm as a central theme for the presentation of earth science to the public.  The dinosaurs are well represented in a diorama, which at the time of installation, was the largest diorama in the North America and the first in the world to to recreate life-sized models of dinosaurs in their natural habitat. The diorama is based on MPM's expeditions to Montana. All plants and animals reproduced in the diorama were found as fossils and provide a real depiction of the animals and plants that co-existed in that area over 60 million years ago.
Also featured as permanent exhibits are a butterfly hall, a bug room, exhibits on Africa, Asia, the Arctic, the Pacific Islands and South & Middle America.  There are also exhibits on life in the oceans and in the rainforests. 
The museum also features seasonal and temporary exhibits.