Mission House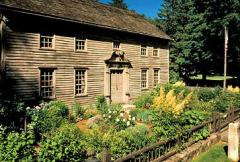 Following ministerial studies at Yale, Reverend John Sergeant moved to the south Berkshires to establish a mission for fifty Mohicans. He lived in a simple cabin until he married Abigail Williams in 1739 and built the Mission House.
Originally located atop Prospect Hill, this National Historic Landmark was carefully disassembled, moved, and restored by Miss Mabel Choate at its present location on Main Street between 1926 and 1927.
Between 1928 and 1933, noted landscape architect Fletcher Steele designed the Colonial Revival garden, which features a colonial-style dooryard garden of circular brick paths enclosed by a tidewater cypress fence. A kitchen garden divided by graveled walkways contains 100 herbs, perennials, and annuals that had culinary or medicinal value to early colonists.
A replica of an old cobbler shop serves as the entrance to the property. A grape arbor in the Well Courtyard behind the Mission House leads to a small Native American museum that tells the story of the Mohicans.