Modoc County Historical Museum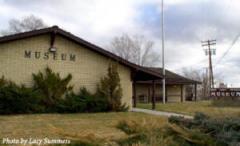 Modoc County Historical Museum houses a large collection of artifacts and firearms including handguns and rifles from the 15th century to the post-World War II era. Rotation of displays keeps local as well as out-of-the-area visitors returning.
The Kober's Drygoods Store displays a variety of items from 1888, when Henry Kober established his store, until after the death of his daughter Elsie, whom continued the business until her death in 1984. The museum presents histories of the three cultures of Native Americans that lived in Modoc: Pit River, Modoc and Paiute. Artifacts on display depict the native life-styles in Southern Oregon, Eastern Nevada and Northern California, dating from the 19th century to over 8,000 years ago.