Monacan Ancestral Museum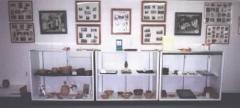 The Monacan Indian Nation of Virginia is a small tribe today, composed of about 1,400 people, located in the Amherst County area near Lynchburg and recognized as a tribe by the State of Virginia. The original territory of the Monacan tribe comprised roughly half of the state of Virginia, including most of the Piedmont region.
The Monacan community today centers around Bear Mountain in Amherst County. At this site, a log cabin was built in the late 1870s and used as a church for the Indian people. Later, it functioned as a school. Today, the log cabin is a recognized National Historic Landmark. The tribal museum is located at Indian Mission Episcopal Church, developed by the Monacan people with grants from the Virginia Foundation for the Humanities, the Sweetgrass Foundation, and the Easley Foundation. Many historical and art artifacts are housed within the log cabin. The Monacan Ancestral Museum is staffed and operated by volunteers within the tribe.