Montpelier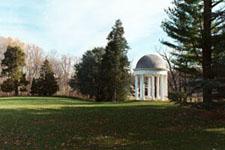 Nestled in the foothills of the Blue Ridge Mountains in Orange, Virginia, Montpelier was the lifelong home of James Madison. Madison was raised at Montpelier, lived here after his marriage to Dolley, returned here after his presidency, and died here in his study surrounded by the books and papers that marked so much of his life's work. It was at Montpelier where Madison researched past democracies and conceived of the system of government that became our republic.
The Montpelier estate features the Madison mansion, historic buildings, exhibits, archaeological sites, gardens, forests, hands-on activities, a new Visitor Center, and a freedman's cabin and farm. Here, in the shadow of the Blue Ridge Mountains, you can spend an hour or two — or a day or two — strolling the grounds, picnicking, and learning more about the man whose contemporaries called the "Father of the Constitution," and the woman who was the first to be called First Lady.
Since 2004 the Montpelier mansion has been undergoing a massive restoration to return it to the home that James and Dolley knew and loved. Visit now for a once-in-a-lifetime chance to see this real-life historical detective story.