Moore House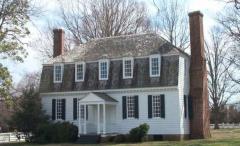 The site on which the Moore House now stands was first patented by Governor John Harvey in the 1630's, and was once named "York Plantation." A century later, it was part of a 500 acre plantation called "Temple Farm" where Lawrence Smith II built a family home. In 1754, the estate passed to Smith's son, Robert. By 1760, however, Robert found himself in financial straits, and was forced to sell the farm that had been in his family for three generations. He sold the 500 acre estate to his brother-in-law, Augustine Moore. However, the most noted significance of the home was the surrender of the Revolutionary War in 1781.
At 10 o'clock on the morning of October 17, 1781, a drummer beating a "parley," and a British officer with a flag of truce, mounted a parapet south of Yorktown. The allies saw the signal, and soon the incessant, devastating artillery fire ceased. A hushed stillness fell over the field. Lord Cornwallis, realizing the defeat of his army was inevitable, sent a message to General George Washington: "Sir, I propose a cessation of hostilities for twenty-four hours, and that two officers may be appointed by each side, to meet at Mr. Moore's house, to settle terms for the surrender of the posts of York and Gloucester." Why Cornwallis selected the Moore House for the negotiations was not explained, however, there are a number of possibilities.The Moore House was well outside the line of siege fire, and therefore, not damaged. It was a neutral location, hiding the British situation in town, and possibly selected in the hope of securing better surrender terms. And finally, it was a convenient location for both sides to reach, as it was situated along the York River.
Today, amidst colonial furnishings, tours of the house focus on the surrender negotiations that helped end the Yorktown Siege.