Mount Clare House Museum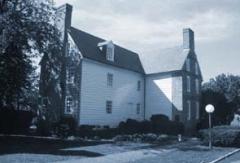 Mount Clare was the center of Georgia Plantation, a self-sufficient plantation with a diverse community. Designated a National Historic Landmark in 1971, the Mount Clare Museum House now educates the public about all aspects of life on an 18th century plantation including the lives of enslaved Africans and indentured servants.
The museum collection contains nearly 3,000 objects from the 18th and 19th century, including paintings, furniture, and decorative arts. The Mount Clare Library collections contain numerous volumes on genealogy, the colonial and revolutionary periods, and Maryland history. Mount Clare boasts one of the finest privately owned decorative arts collections in the country, most of which belonged to the Carroll family. The collection consists of English and Chinese export objects as well as many regional objects and furnishings from Maryland, Virginia and Pennsylvania. On exhibit are 16 family portraits by notable artists such as Charles Willson Peale and Robert Edge Pine.