Mount Vernon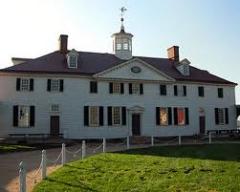 Mount Vernon, the beloved home of George and Martha Washington, is the most popular historic estate in America. South of Washington, D.C.the plantation rests on the banks of the Potomac River.
The home of the nation's first president, Mount Vernon was the first - and most importantly - historic house museum in the nation. A new museum and education center features 23 galleries and theaters with over 700 hundred artifacts. State of the art theaters and interactive displays, plus a library for researchers and students, provide a memorable experience.
Visitors are invited to tour the Mansion house and more than a dozen outbuildings including the slave quarters, kitchen, stables, and greenhouse. Stroll four different gardens, hike the Forest Trail, and explore the George Washington: Pioneer Farmer site, a four-acre working farm that includes a re-creation of Washington's 16-sided treading barn. George and Martha Washington rest in peace in the tomb where wreathlaying ceremonies are held daily, and the Slave Memorial and Burial Ground is nearby.
Forty-five acres of the estate are open to the public. A spectacular view of the Potomac River from the Mansion's piazza transports visitors back in time. The four gardens showcase heirloom plants known to have been at Mount Vernon in the late 1700s. Washington himself designed the landscape which includes 13 trees that stand today as the last living witnesses of Washington's lifetime.
Visit George Washington's Distillery & Gristmill which demonstrates how Washington utilized his farm to turn corn into meal as well as operate the largest American distillery in 1799, which produced over 11,000 gallons of whiskey.
Opened in 2006, the Ford Orientation Center showcases Mount Vernon in Miniature, a 1/12th sized exact replica of the Mansion. Sit in one of two theaters and view a 20-minute action-oriented film, "We Fight to Be Free," a re-enactment of the Revoluntionary War, the crossing of the Delware River.
The Donald W. Reynolds Museum and Education center offers experiences that illuminate the Washington's life, including his military and presidential careers. Interactive displays, three life-sized figures, and a museum with permanent and temporary exhibits are home to the story of the nation's first president.