Museum Center At 5ive Points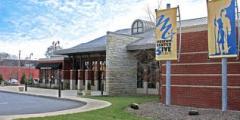 Featuring the rich history of the Ocoee River and Chattanooga region, the Museum Center at 5ive Points offers visitors artifacts, exhibits and galleries of the South.
The Museum Center at 5ive Points opened to the public on September 11, 1999, after breaking ground nearly a year and a half earlier on May 29, 1998. The Museum Center is both a museum and cultural center and houses exhibits and artifacts relating to the history of the Ocoee Region of Tennessee which includes Bradley and Polk Counties . The Museum store is a gallery showcasing the arts and crafts of the South. The facility is also often used for private and community events.