Mystic River Historical Society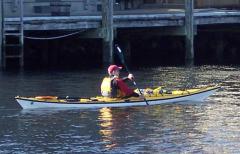 The society maintains a part-time archival and curatorial staff available to assist researchers and to continue the organization and cataloging of the collections.
In addition to the Downes Building, the society owns the Portersville Academy, purchased from the Town of Groton in 1975 and partially restored. This historical building serves as the society's education and outreach space. A schoolroom of the 1840's has been recreated upstairs, and historical displays form a backdrop for educational activities downstairs. The Downes Building and Portersville Academy lie adjacent on High Street in Mystic, south of West Main Street.
Portersville Academy was built in 1839 by Amos Clift as the Fifth District School and originally stood further up High Street just north of Union Baptist Church. In 1887 the Town of Groton bought the building and moved it to its present site. It was used as a District Hall for a number of years, eventually falling into disrepair before the Society acquired it.