Mystic Seaport Museum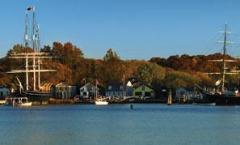 Mystic Seaport, the Museum of America and the Sea, is one of the oldest living history museums in the United States, featuring both a collection of sailing ships and boats and over 60 original historic buildings with craftsmen to demonstrate how work was done.
Since the 1600s, Mystic, Connecticut, had been a center of shipbuilding. Between 1784 and 1919—the golden age of American maritime enterprise—more than six hundred vessels were constructed along the Mystic River. But the advent of steam power and the decline of wooden shipbuilding after the Civil War meant that textile manufacturing became Mystic's dominant industry. The museum was established in 1929 as the "Marine Historical Association."
Mystic Seaport includes a recreated 19th-century village, a shipyard that includes four ships that have been declared National Historic Landmark vessels, a preservation shipyard, and, of course, the museum's collections. The museum's collections include more than 75 years worth of maritime art and objects, seventy thousand books and one thousand ship registers, an extensive collection of film and video, manuscripts, maps, and periodicals, over one hundred thousand naval architectural drawings, one of the nation's largest maritime photographic archives containing over 1,300,000 images from the 1840s to the present, and over five hundred vessels of all sizes and types.