National Aviation Heritage Area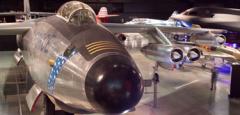 The new National Aviation Heritage Area (NAHA) joins 26 other heritage areas in existence around the country. Like the Motor City Heritage Area in Detroit, NAHA is one of the few that represents more than a bygone era of heritage; it embodies an industry that is alive and well, but which is chock full of great history and stories that can only be called the "purest slices of Americana."
NAHA consists of 10 historical sites and two other member organizations. The sites are the National Museum of the United States Air Force, the National Aviation Hall of Fame, the Dayton Aviation Heritage National Historical Park (which includes four sites: Carillon Historical Park, Huffman Prairie Flying Field and Huffman Prairie Flying Field Interpretive Center, Wright-Dunbar Interpretive Center and the Paul Laurence Dunbar State Memorial), The Wright B Flyer, Grimes Flying Lab Foundation, Armstrong Air & Space Museum, WACO Museum & Airfield, and the two organization members, Aviation Trail, Inc. and the Wright Brothers Aeroplane Company (makers of Wright replica aircraft and a host of other interactive displays and tools for education).
NAHA already has much to boast about when it comes to historical sites, artifacts and museums. Visitors will find much to experience, whether you spend a day or a full week traveling the Heritage Area. Ultimately, each visitor will have the opportunity to learn how the Wright brothers unlocked the millennia-old secrets of human flight, and see how our nation's aviation heritage unfolded following the Wright brothers' invention.