National Historic Oregon Trail Interpretive Center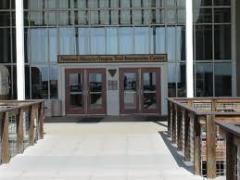 The Center offers living history demonstrations, interpretive programs, exhibits, multi-media presentations, special events, and more than four miles of interpretive trails.
The old, untamed frontier opens up to visitors at this extensively informative center located right outside Baker City, OR. This institution preserves the history of one of the most transformative migration routes ever to grace the American landscape.
For nearly 80 years during the 19th century, the Oregon Trail guided travelers from the East to new settlements in the West. Starting in Independence, MO, it wound its way across the continent, traversed the Great Plains and the Rocky Mountains, and ended in Oregon City, OR. Baker City lay 300 miles east of these courageous pioneers' final destination and represented an important stop where they could rest and replenish supplies for the last long push towards the coast.
Visitors to the Center can get a feel for what life was like for those braving the Oregon Trail's seemingly immeasurable miles. The Center focuses on six themes, including pioneer life on the Oregon Trail, mountain men and early Trail travelers, Native Americans along the Oregon Trail, natural history along the trail and in eastern Oregon, mining and early settlement, and the history of the General Land Office, Grazing Service, and Bureau of Land Management.
Living history is used to illustrate aspects of the Trail experience vividly. Presenters create factual and emotional perspectives of the era by using historically accurate terminology, music, songs, costuming, and props. In addition to an outdoor pioneer wagon encampment and a mining site, the 150-seat Leo Adler Theater provides a "front row" view of living history presentations and other educational programs.
An outdoor trail system offers four miles of hiking to see scenic vistas of the Blue Mountains, the Wallowa Mountains, and the Baker Valley and Virtue Flat, where the original route of the Oregon Trail can be clearly seen from atop Flagstaff Hill. Visitors may take one of the hiking trails down to the Oregon Trail, and walk in the actual wagon ruts left behind by the pioneers.
Special exhibits in the Flagstaff Gallery provide extra focus on topics related to the six themes of the Center.