National Historic Trails Interpretive Center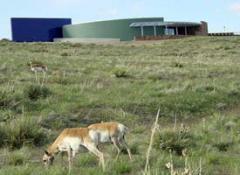 Nearly 500,000 people traveled the Oregon, Mormon, California and Pony Express Trails between 1840 and 1870. Outdoor informational kiosks welcome visitors and present various "jumping off points" of these designated national historic trails.
Inside the building, the facility's theatre showcases composite characters traveling the trails: Native Americans, explorers and mountain men, emigrants and Pony Express riders. These diorama figures represent Native cultures and the thousands of people who emigrated west.
An original 18-minute multi-media program, Footsteps to the West, is shown in the theatre on a regular basis. Special events and living history presentations also take place periodically in the theatre.