National Liberty Museum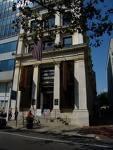 Glass art is a key component of the Museum because it represents both the beauty and fragility of freedom. The Museum houses one of the largest and most important collections of contemporary glass sculptures in the world. The centerpiece of the Museum is a 21-foot "Flame of Liberty" by the world's most renowned glass artist, Dale Chihuly.
Another important theme of the Museum is the universality of heroism – the idea that anyone can be a hero. The Museum honors 2,000 people of all backgrounds and walks of life to promote pride in oneself and respect for others. We also teach ways to resolve conflicts peacefully and stress the necessity of civic involvement as a means of preserving America's heritage of freedom.
All of these messages are presented in visually stunning exhibits and through interactives that are both challenging and fun.