National Military History Center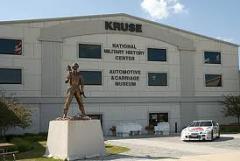 Within the National Military History Center, multiple museums display exhibits to honor the historic legacy of the U.S. Military.
Over the years many fine facilities and initiatives have sought to honor our nation's military and its remarkable soldiers, sailors, marines and airmen. The National Military History Center (NMHC) in Auburn, IN will complement these efforts while offering a variety of unique and exciting components. The complex will spotlight the service and sacrifice of America's military through a variety of museum units and major galleries dedicated to Young America's military, World War I, World War II, Korea, Vietnam, the Cold War, and today's War on Terror.